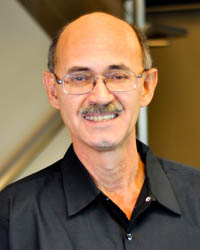 Wouter Schuchner
Senior Developer
Wouter Schuchner came to Zumasys in 2011 with over 30 years experience in Pick / D3 software design and development. With a broad background in application software development, and an emphasis in manufacturing applications, Wouter has programmed projects such as robotic warehouse interfacing, SOX compliance, performance and efficiency tuning.
Prior to joining Zumasys, Wouter worked as a D3 programmer for MeadWestVaco in Kansas City, Missouri. Having worked with Zumasys as the company's D3 partner, it was a natural transition to join the company and its growing custom development team.
Based out of his home office in rural Missouri east of Kansas City, Wouter enjoys a quiet country life with his wife Pam, his 20 year old son Nick, and their 11 dogs.
Joined: 2011

Passion: Dirt bike riding / Motocross racing (as a spectator), Outdoors: Skiing, hiking, beach

Favorite Band: Rob Thomas