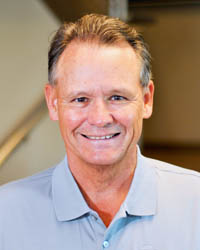 Tom Parker
Senior Application Developer
Tom Parker is a 35-year veteran of the MultiValue/Pick world. Earlier in his career, Tom's passion was the mortgage banking industry where he created a loan origination system that evolved through several generations of industry and technological changes. His customer base consisted of 5 to 10 medium-sized lenders with highly customized applications. In 1998, one of Tom's customers hired him away from his own company to support their aggressive growth plans in the online, consumer direct lending space. That lender – LoansDirect – was later acquired by and became E*Trade Mortgage. E*Trade Mortgage grew to become one of the industry's top two consumer direct lenders. Supporting a D3 system of 550 users for over 5 years, Tom had the experience of adapting that system to the rigid audit requirements imposed on a publicly traded company.
E*Trade Mortgage and Zumasys had both come into existence at about the same time. Through the long-time relationships that Tom had with Paul Giobbi and Joe Cupp, E*Trade became one of Zumasys' first customers. In 2008, about the same time that the bottom fell out of the mortgage industry, Zumasys had an interest in providing software development services to it's own clients. Tom joined Zumasys in 2008 to lead the company's software development initiative. After 2 ½ years, Tom had an opportunity to get back into mortgage banking in a business analyst capacity. He loved being back in his original industry but, after 18 months, reached the conclusion that his love of programming was greater than his love of mortgage banking. In December of 2011, Tom returned to Zumasys to augment its growing staff of highly qualified software developers.
Tom has a philosophy on life: Work hard and play hard. Two of his main passions are golf and scuba diving. He and his wife Tina are members of the Aliso Viejo Country Club where he is a three-time senior club champion and the 2016 super senior club champion. In 2013, Tom and Tina used the Zumasys Employee Travel Program to play the historic St. Andrews Golf Links. In 2014, Tom achieved two firsts on the golf course when he shot his first sub par round and got his first hole in one. In 2016, he followed that up with a four under par 68 and his second hold in one. When not on the golf course, Tom and Tina love to travel to Cozumel, Mexico for scuba diving and enjoy the tropical lifestyle. With his wife's children now grown and off to college they are looking forward to spending more of his non-working hours pursuing those passions. In addition to Tina's kids, Tom has 3 children and 12 grandchildren. To celebrate a recent milestone birthday, Tom fulfilled his bucket list experience of traveling around Indianapolis Motor Speedway in an open wheel car at 190 MPH.