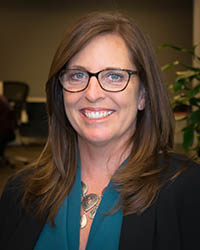 Tiffaney Giobbi
Director, Happyness Is a Choice Corporate Giving Program
Tiffaney Giobbi has been a member of the Zumasys team since the company's inception in 2000. During her tenure at Zumasys, Tiffaney has contributed in a range of roles, from managing support renewals to helping shape the social vision for the business. Her long history with the company and intimate knowledge of Zumasys have made her an invaluable advisor to the Zumasys executive team, and her influence can be seen throughout the company.
In 1995, Tiffaney and her husband Paul moved to Houston, where Paul had secured a job at Jones Business Systems (JBS). At the time, Tiffaney was putting her degree in psychology to use running an after school program. But when Paul moved JBS' Pick division to San Clemente, California, Tiffaney decided it was time for a change. She began working for JBS, managing the company's Pick database maintenance contracts.
When Zumasys spun off from JBS in 2000, Tiffaney continued working in contract renewals before taking a break to spend more time with her growing family. In 2004, she again returned to Zumasys, where she continued to form lasting relationships with Zumasys customers and gain valuable perspective on their evolving needs.
Today, Tiffaney operates in an advisory role, applying her experience to help shape the business and its cultural initiatives, such as the Happyness Is a Choice program, which donates 1% of Zumasys' revenues to worthy nonprofit organizations and individuals in need in the community. She plays an active part in many Zumasys events and regularly attends Zumapalooza; Zumasys President's Club; and industry events such as the Inc. 5000 Conference, which has led to several exciting Zumasys implementations, including the establishment of the Zumasys Executive Management Team.
Tiffaney's commitment to community has been a driving force behind the evolution of the company's Happyness Is a Choice program. Inspired by her experiences participating in a 60-mile, 3-day breast cancer walk, Tiffaney has been a vocal advocate for using Zumasys as a platform to influence change and connect employees to their local and global communities. It's a message that she also hopes to instill in her two children.
When she has a minute to herself, Tiffaney enjoys pushing her limits. An adventurer at heart, she's always first in line for a sky dive, cliff jump, mud run, or triathlon. She's currently accepting ideas for her next challenge.
Joined: 2001

Love's Country Music