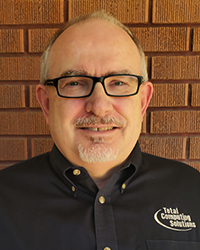 Jim Hammons
Senior Solutions Consultant
Jim was previously the General Manager, Vice President of Strategy & Marketing at Total Computing Solutions (TCS), a Utah-based provider of MultiValue database solutions for higher education retail customers. Jim joined the Zumasys team in 2019 when TCS was acquired by Zumasys. Jim is based in the Wasatch Front area of Utah.
Jim started working with TCS as a consultant in 2003 and was hired full-time in 2012. Prior to joining TCS in 2003, he worked for Hewlett Packard for eight years as a strategic planner and product manager for HP's PC Division and Internet Solutions Operations.
At TCS, Jim was instrumental in helping grow the business to expand its service offering and customer base. He led the efforts to acquire the point-of-sale business from one of TCS' main competitors and was instrumental in developing partnerships with distributors in the retail and higher education sectors, as well as in new and developing markets. Jim also helped TCS improve and expand its web presence, enabling the company to reach new customers and provide a better customer experience.
After meeting Zumasys President Paul Giobbi, Jim helped facilitate the discussions and strategic planning that would eventually lead to a business partnership between TCS and Zumasys in 2019. Using Zumasys' global reach and development resources, Jim hopes to lead TCS and its products into new markets while modernizing core applications to meet the needs of new customers.
"I'm really excited about the new things we'll be able to do for our customers as part of the Zumasys team," says Jim. "There are a lot of synergies between our two organizations. The integration and consolidation of tools and applications will provide powerful solutions for all our customers."
When he's not at the office, Jim loves spending time with his wife and family. He enjoys working on and restoring classic cars, as well as woodworking and watching sports with his family. Jim is very active with his church and local community and spends time volunteering with youth groups in his area.