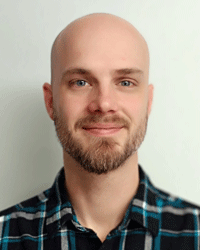 Hyrum Tuttle
Network Administrator, IT Support
Hyrum Tuttle is a Network Administrator in the IT Support team at Zumasys. Hyrum was previously a Systems Administrator and Help Desk representative at Total Computing Solutions (TCS), a Utah-based provider of MultiValue database solutions for higher education retail customers. Hyrum joined the Zumasys team in 2019 when TCS was acquired by Zumasys.
At TCS, Hyrum was responsible for product support and administration for SmartSuite, a complete software-as-a-service portfolio for retail management, specifically for campus bookstores. Built on a MultiValue database platform, SmartSuite integrates everything from point of sale to accounts payable, stock, and merchandising—even financial aid and food services.
In his new role at Zumasys, Hyrum now manages systems administration and IT-related tasks for Zumasys' customers, making sure that the backend infrastructure that customers depend on for their MultiValue applications is up to date and operating efficiently.
Hyrum's career history blends retail and technology, giving him a unique perspective into the needs of his customers. He is excited to help customers modernize the look and feel of their applications—including SmartSuite—while preserving their technology investments. Hyrum will be assisting customers from the Zumasys office in Utah.