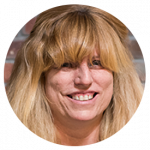 Cathie McGuire, Application Architect

Rover Data Systems
Welcome to Part 3 of our series on the Rover ERP software! In Part 2, you heard from Vern Jorgensen, co-founder of Rover Data Systems, about the financial capabilities of Rover and the benefits of leaving QuickBooks in the dust. In this piece, we'll be honing in on one of the most important functions of Rover: Purchasing and Forecasting.
If you're struggling to keep up with your purchasing and operations team's needs using QuickBooks alone, Rover is the all-in-one tool you need.
The full ERP package with the specializations your team needs
Off-the-shelf solutions like QuickBooks and Peachtree might work for startup companies and for smaller environments, but you don't get the full ERP capabilities you need to support growing operations. Here are a few of the features of Rover that we think are useful.
Up-to-date inventory tracking
With Rover ERP, inventory is always updated in real time. When you create a receipt for a purchase order or complete a work order, inventory is automatically updated. When you do a shipment, inventory is automatically reduced. There are several other screens you can use to transact inventory, giving you accurate quantities whenever you need them.
Custom workflow alerts
Rover comes complete with an entire workflow management system. With this tool, you can define an alert to be created based on any action in the system. For example, if a customer's order is placed on hold, you can find out why, or if there are changes that have been made to the order. You can also set up an alert if parts are being received into the system. This is helpful if you're short on parts that are on different work orders, if you're placing an order for a part that was classified as inactive, or if you don't have enough on hand to cover the order at the time.
Shipping made Easy
You can define an unlimited number of ship-to locations for each customer. You can also override shipping information for one-time shipment locations. When an order is placed, you can pick and choose which shipment you want to load into the order. If you're interfacing with UPS and FedEx, that all flows through to their systems so that you don't have to reenter the data into freight company software. Shipping information then flows back to the Rover ERP where you can get all your tracking numbers. Once the delivery is done, you can access the freight company's tracking site through the order history screen.
Rover ERP's pricing matrix is very flexible. Prices can be defined by part number (e.g. list price), include quantity breaks and sale dates, and allow pricing by customer group or specific customers. Prices can be fixed by group or calculated as a discount from list. There are processes that you can use to mass update those prices.
Intelligent RMAs and returns
With Rover, you can generate RMAs for a specific sales order or shipment, or you can just do a miscellaneous RMA for a given customer. Most people will use a sales order or shipment to generate the RMA. If you do that, you have the option to back-order the sales order for the material being returned and then return the product to the customer on the original order number.
In the RMA module, you have the ability to not just track the returns by part number, but also the reason the part number failed and is coming back using user-defined failure codes. If the product being returned is serial-controlled, the RMA process will track that serial number and record to the activity.
We continue to add great features and customizations to Rover, so stay tuned for more updates.